CURRENT TROPICAL CYCLONES
Tropical Cyclone 09W (Bavi)
…is located approximately 108 NM west-northwest of Kadena AB, Okinawa
Northeast Pacific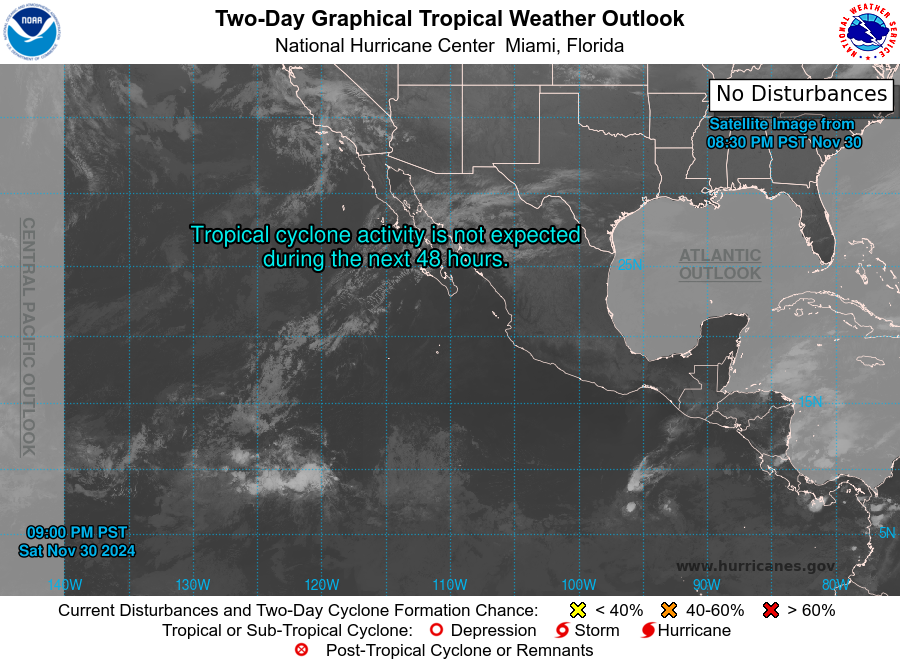 Showers and thunderstorms have decreased this evening in association with a broad area of low pressure located several hundred miles south of the southern tip of the Baja California peninsula. Environmental conditions still appear conducive, however, for further development, and a tropical depression is expected to form during the next couple of days while the system meanders or drifts northward a few hundred miles offshore of the coast of southwestern Mexico. * Formation chance through 48 hours…
high…70 percent
* Formation chance through 5 days…
high…90 percent
>>> 
A small low pressure area located a couple of hundred miles south-southwest of the Gulf of Tehuantepec has changed little during the past several hours while producing only limited showers and thunderstorms. Conditions appear conducive for additional development of this system, and a tropical depression is likely to form within the next couple of days while it moves slowly northwestward, near or parallel to the southwestern coast of Mexico. Regardless of development, areas of heavy rainfall and flash flooding are likely in southeastern Mexico and northern Central America during the next several days. * Formation chance through 48 hours…
high…70 percent
* Formation chance through 5 days…
high…90 percent
Here's the link to the
National Hurricane Center
(NHC)
Central Pacific
The elongated remnant low of Tropical Depression Ten-E, located around 1100 miles east-southeast of Hilo, Hawaii, remains disorganized this evening. Environmental conditions will remain unfavorable during the next several days as the system meanders or drifts slowly westward. Development of this system is no longer expected. * Formation chance through 48 hours…
low…near 0 percent
* Formation chance through 5 days…
low…near 0 percent
Western North Pacific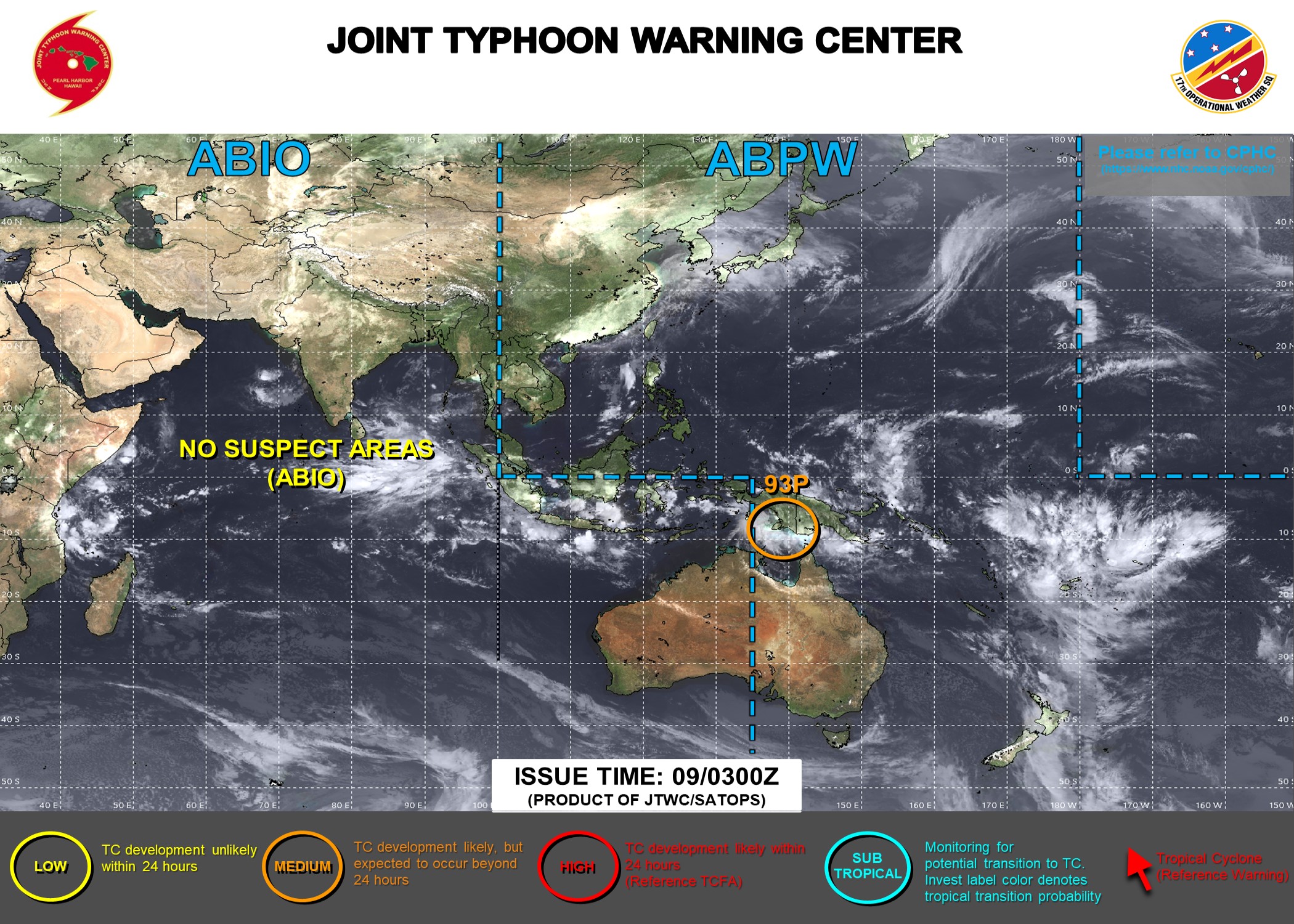 Tropical Cyclone 09W (Bavi)

…is located approximately 108 NM west-northwest of Kadena AB, Okinawa
According to the JTWC, typhoon Bavi is tracking northeastward through an environment favorable for further intensification, with very warm sea surface temperatures, low 5-10 knot wind shear, and well established equatorward outflow in the upper levels. Typhoon Bavi will continue to track northeastward through 12 hours, while continued favorable wind shear and sea surface temperatures, will allow it to intensify to 85 knots…reaching a peak intensity of 100 knots by 48 hours. This system will weaken slightly to 90 knots by 72 hours, due to cooling sea surface temperatures and increasing wind shear. After 72 hours, wind shear will increase to 35 knots by 96 hours, and coupled with cooling sea surface temperatures will begin to weaken the typhoon, as it continues to track northward towards the Korean peninsula. Between 72-96 hours, the system will make landfall and begin to dissipate due to land interaction. As it tracks further into mainland China the system will dissipate by 120 hours.
>>>
There's a tropical disturbance, being referred to as
Invest 93W
, which is located approximately 235 NM southwest of Yokosuka, Japan Here's what the
computer models
are showing Maximum sustained winds are estimated at 10-15 knots. The potential for the system to transition into a significant tropical cyclone within the next 24 hours remains
low
.