CURRENT TROPICAL CYCLONES
Tropical Cyclone 09W (Bavi)
…is located approximately 225 NM west of Kadena AB, Okinawa
Northeast Pacific
An elongated area of low pressure located several hundred miles south-southwest of the southern tip of the Baja California peninsula continues to produce a large area of disorganized cloudiness and thunderstorms. Conditions appear favorable for gradual development, and a tropical depression is likely to form during the early- to-middle part of next week while the system drifts a few hundred miles offshore the coast of southwestern Mexico. * Formation chance through 48 hours…
medium…50 percent
* Formation chance through 5 days…
high…80 percent
>>> 
An area of low pressure is likely to form south of the Gulf of Tehuantepec during the next day or two. A tropical depression is likely to form by the middle of next week while the system moves slowly northwestward or northward, near or parallel to the southwestern coast of Mexico. Regardless of development, areas of heavy rainfall and flash flooding are likely in southeastern Mexico and northern Central America during the next several days. * Formation chance through 48 hours…
low…20 percent
* Formation chance through 5 days…
high…70 percent
Here's the link to the
National Hurricane Center
(NHC)
Central Pacific
The remnant low of Tropical Depression Ten-E, located around 1050 miles east-southeast of Hilo, Hawaii, remains disorganized this evening. Environmental conditions are expected to become increasingly unfavorable for development during the next couple days as the system tracks slowly northward. * Formation chance through 48 hours…low…10 percent * Formation chance through 5 days…low…10 percent
Western North Pacific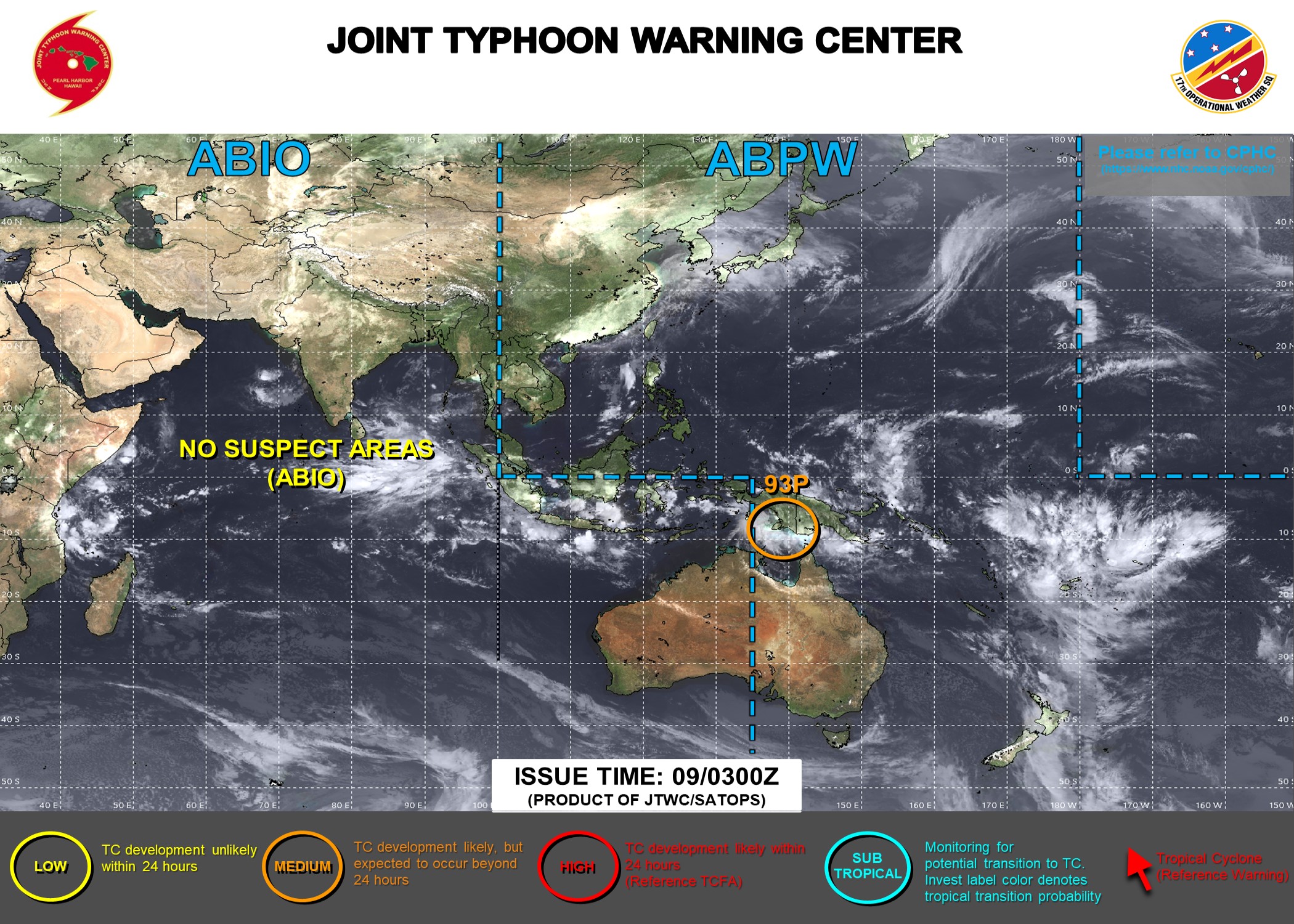 Tropical Cyclone 09W (Bavi)
According to the JTWC, upper level outflow is expected to be enhanced, along with continued low wind shear and very warm sea surface temperatures, which will allow for further and possible rapid intensification to 70 knots by 24 hours…and 80 knots by 36 hours. Continued warm sea surface temperatures and moderate 20-25 knot wind shear will lead to further intensification during the northward track, and allow the system to reach 100 knots by 72 hours. In the extended period, the continued favorable environment will allow this storm to further intensify to a peak intensity of 105 knots by 96 hours. Bavi will make landfall over South Korea after 96 hours and begin to weaken due to the frictional effects of land interaction.
>>>
There's a tropical disturbance, being referred to as
Invest 93W
, which is located approximately 248 NM southwest of Yokosuka, Japan Here's what the
computer models
are showing Maximum sustained winds are estimated at 10-15 knots. The potential for the system to transition into a significant tropical cyclone within the next 24 hours is
low
.