CURRENT TROPICAL CYCLONES:
Tropical Cyclone 03L

…is located about 95 miles west-southwest of Campeche, Mexico
Atlantic Ocean
There are no active tropical cyclones
Caribbean Sea
There are no active tropical cyclones
WSI satellite image of the Caribbean Sea
Gulf of Mexico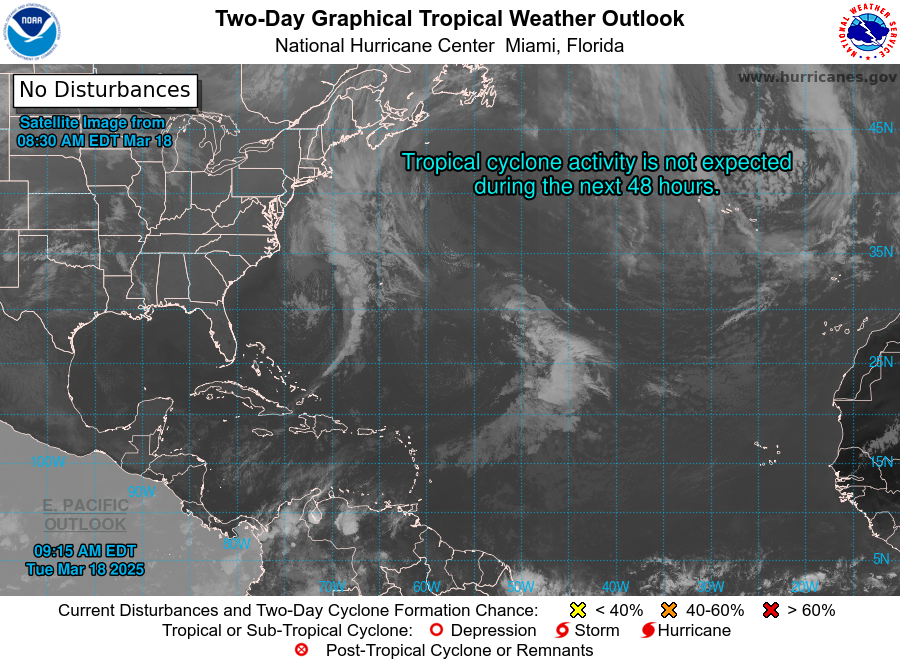 Tropical Cyclone 03L
It's too early to know where this potential system might track, although the U.S. Gulf Coast and Mexico could be in the bulls eye. The last June hurricane in the Gulf of Mexico was Alex, which made landfall in northeastern Mexico on June 30, 2010…which brought flooding rain to Monterey, Mexico, and the lower Rio Grande Valley of Texas. According to the NHC, the depression is moving toward the west near 7 mph (11 km/h). This heading at a slower forward speed is expected tonight. The depression is forecast to turn west-southwestward or southward at a even slower forward speed on Tuesday, and meander over the southern Bay of Campeche through late Wednesday. On the forecast track, the center of the cyclone is forecast to be near the coast of the southern Bay of Campeche Tuesday night through Thursday. Maximum sustained winds are near 30 mph (45 km/h) with higher gusts. Gradual strengthening is expected during the next couple of days and the depression is forecast to become a tropical storm tonight or Tuesday. Today marks the first day of the Atlantic hurricane season, which will run until November 30. Long-term averages for the number of named storms, hurricanes, and major hurricanes are 12, 6, and 3, respectively.
HAZARDS AFFECTING LAND
RAINFALL: Tropical Depression Three is expected to produce rain accumulations of 10 to 15 inches over parts of the Mexican states of Tabasco and Veracruz and adjacent portions of Guatemala. This system is also expected to produce rain accumulations of 5 to 10 inches over parts of El Salvador and Honduras. Isolated maximum rainfall amounts of 20 inches are possible in the Mexican states of Tabasco, Veracruz, Oaxaca and portions of Guatemala. This rainfall may produce life-threatening flash floods and mudslides. WIND: Tropical storm conditions are expected to first reach the coast within the warning area Tuesday night
Latest satellite image of the Gulf of Mexico