CURRENT TROPICAL CYCLONES:
Tropical Cyclone 08L (Hanna)

…located about 100 miles southwest of Monterrey, Mexico – Last Advisory
Atlantic Ocean: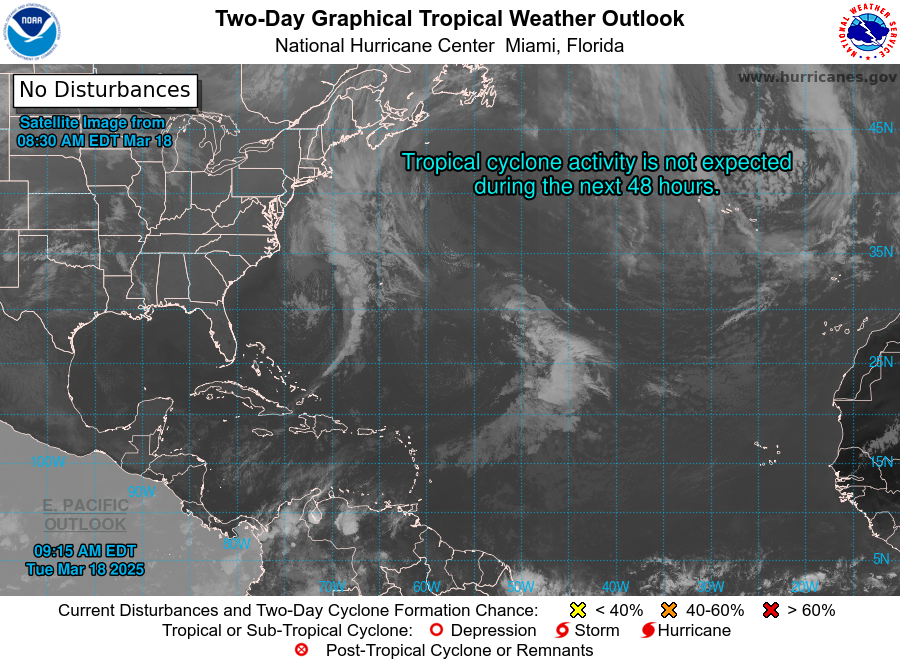 1.)
Shower activity is becoming a little better organized in association with a broad area of low pressure located over the central tropical Atlantic about midway between the coast of Africa and the Lesser Antilles.
Environmental conditions are expected to become increasingly conducive for development of this system, and a tropical depression or tropical storm is likely to form within the next day or two while moving westward to west-northwestward at 15 to 20 mph.
This system is expected to begin affecting portions of the Lesser Antilles on Wednesday or Wednesday night, and interests on those islands should continue to monitor its progress.
* Formation chance through 48 hours…
high…80 percent
* Formation chance through 5 days…
high…90 percent
Here's a
satellite image
of the Atlantic Ocean
Caribbean Sea:
WSI
satellite image
of the Caribbean Sea Latest
satellite image
of the Caribbean Sea and the Gulf of Mexico
Gulf of Mexico: Tropical Depression 08L (Hanna)

–

Last Advisory
According to the NHC, The depression is moving toward the southwest near 7 mph (11 km/h) and this motion is expected to continue into early Monday. Maximum sustained winds are near 30 mph (45 km/h) with higher gusts. Continued weakening should continue as Hanna moves across higher terrain and becomes a remnant low on Monday.
HAZARDS AFFECTING LAND
RAINFALL: Hanna is expected to produce the following rain accumulations and flood threats through Monday: South Texas…Additional 2 to 5 inches. Storm total amounts 6 to 12 inches, isolated 16 inches. Northern Mexican states of Coahuila, Nuevo Leon, Tamaulipas…6 to 12 inches, isolated 16 inches. Northern Mexican states of northern Zacatecas and eastern Durango…1 to 4 inches. This rain will produce life-threatening flash flooding, rapid rises on small streams, and isolated minor to moderate river flooding in South Texas. Flash flooding and mudslides are likely across Northern Mexican states. SURF: Swells generated by Hanna will continue to affect much of the Texas and Louisiana coasts through early monday. These swells are likely to cause life-threatening surf and rip current conditions.