CURRENT TROPICAL CYCLONES:
Tropical Cyclone 13L (Laura)

…is located 30 miles north-northeast of Little Rock, Arkansas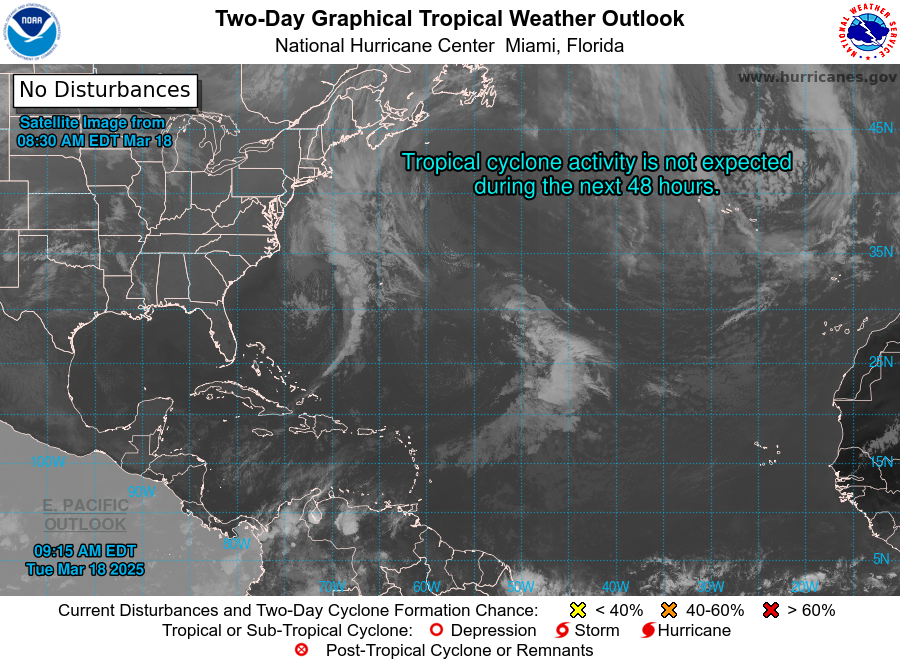 Atlantic Ocean:  
Showers and thunderstorms associated with a tropical wave over the central tropical Atlantic have gradually become a little better organized during the day. Additional development of this system is possible during the next several days while it moves westward at about 15 mph. * Formation chance through 48 hours…
low…20 percent
* Formation chance through 5 days…
low…30 percent
>>>
A tropical wave located over the eastern Atlantic Ocean just west of the Cabo Verde Islands is producing disorganized shower and thunderstorm activity. The northern part of this wave, which is expected to move rapidly westward over the central Atlantic during the next few days, is forecast to remain too far to the north and in an unfavorable environment for development to occur. However, the southern part of the wave is expected be nearly stationary south of the Cabo Verde Islands for the next several days, and some development of this system is possible early next week when it begins to move slowly westward over the eastern and central tropical Atlantic. * Formation chance through 48 hours…
low…near 0 percent
* Formation chance through 5 days…
low…30 percent
Here's a
satellite image
of the Atlantic Ocean
Gulf of Mexico: 
Tropical Cyclone 13L (Laura)
LAURA WEAKENS TO A DEPRESSION OVER ARKANSAS…FLOOD THREAT CONTINUES
According to the NHC
Advisory 33
…The depression is moving toward the north-northeast near 15 mph (24 km/h), and this general motion should continue overnight. A northeastward to east-northeastward motion is expected to begin on Friday and continue into Saturday. On the forecast track, the center of Laura is forecast to move over Arkansas tonight, the mid-Mississippi Valley on Friday, the mid-Atlantic states on Saturday, and over the western Atlantic on Sunday. Maximum sustained winds have decreased to near 35 mph (55 km/h) with higher gusts. Laura is expected to become a remnant low pressure system on Saturday, and an extratropical low later this weekend.
HAZARDS AFFECTING LAND
WIND: Damaging wind gusts and tropical storm conditions are expected to spread into portions of northern Louisiana and Arkansas through this evening. RAINFALL: Over central and eastern Arkansas: 3 to 7 inches. Over southern Louisiana and southern Mississippi: 1 to 3 inches, with isolated additional totals of 5 inches. Isolated storm totals of 15 to 18 inches across southwest Louisiana. Over northern Mississippi, western Tennessee, and southeast Missouri: 1 to 3 inches, with isolated totals of 5 inches. This rainfall will continue to cause widespread flash and urban flooding, small streams and creeks to overflow their banks, and minor to moderate freshwater river flooding. Through Saturday, Laura is expected to produce 1 to 3 inches with isolated maximum amounts of 5 inches across portions of the Tennessee and Lower Ohio Valleys, the central and southern Appalachians, and the Mid-Atlantic States. This rainfall may lead to flash and urban flooding and rapid rises on small streams. TORNADOES: A few tornadoes remain possible this evening, mainly across central and eastern Arkansas into Mississippi. The risk for a few tornadoes should redevelop Friday afternoon into the evening across parts of the Mid-South and Tennessee Valley regions. SURF: Swells produced by Laura continue to affect the U.S. Gulf coast from the Florida Panhandle to Texas. These swells are likely to cause life-threatening surf and rip current conditions.