CURRENT TROPICAL CYCLONES:
Tropical Cyclone 11L (Josephine)

…is located 135 miles north-northeast of the Northern Leeward Islands
Tropical Cyclone 12L (Kyle)

…is located 590 miles southwest of Cape Race, Newfoundland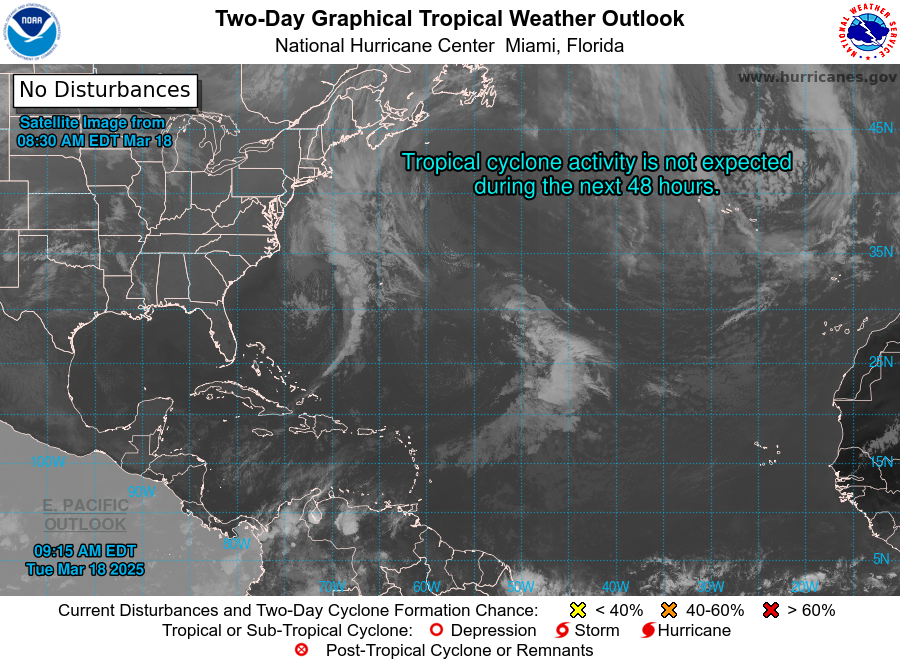 Atlantic Ocean:
Tropical Cyclone Josephine
According to the
NHC Advisory 18
…Josephine is moving toward the west-northwest near 14 mph (22 km/h), and this general motion is expected to continue for the next day or two, followed by a turn toward the northwest and north early next week. On the forecast track, the center of Josephine is expected to pass to the northeast and north of the Leeward Islands tonight through Sunday. Maximum sustained winds are near 45 mph (75 km/h) with higher gusts. Josephine is now in an area of unfavorable upper-level winds, and weakening is expected during the next couple of days. Tropical-storm-force winds extend outward up to 115 miles (185 km) to the north of the center.
HAZARDS AFFECTING LAND RAINFALL:
RAINFALL: Josephine is expected to cause storm-total rainfall of 1 to 3 inches over portions of the northern Leeward Islands, the Virgin Islands, and Puerto Rico. Isolated minor flooding is possible in Puerto Rico through Monday.
Tropical Cyclone Kyle
According to the
NHC Advisory 6
…Kyle is moving toward the east-northeast near 20 mph (31 km/h) and this general motion is forecast to continue tonight. A turn toward the east is expected by late Sunday and continue into Monday. Maximum sustained winds have decreased to near 45 mph (75 km/h) with higher gusts. Gradual weakening is expected to continue through Sunday, and Kyle is forecast to become post-tropical Sunday morning. Tropical-storm-force winds extend outward up to 175 miles (280 km) from the center. What the
computer models
are showing
>>>
A westward-moving tropical wave located over the central tropical Atlantic several hundred miles east of the Windward Islands is currently producing limited shower and thunderstorm activity. However, upper-level winds are expected to become a little more conducive for development by the middle of next week as the disturbance approaches the central and southern Lesser Antilles and moves into the eastern Caribbean Sea. * Formation chance through 48 hours…
low…10 percent
* Formation chance through 5 days…
low…20 percent
Here's a
satellite image
of the Atlantic Ocean
Caribbean Sea:
WSI
satellite image
of the Caribbean Sea Latest
satellite image
of the Caribbean Sea and the Gulf of Mexico
Gulf of Mexico: 
Latest
satellite image
of the Gulf of Mexico