Western Pacific Ocean – Invest 95W
By PDC's Senior Weather
Specialist Glenn James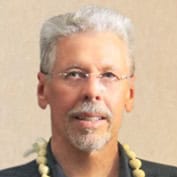 There's a tropical disturbance being referred to as Invest 95W…which is located approximately 250 NM southeast of Chuuk, FSM.
According to the JTWC…satellite imagery shows the system has weakened over the past 24 hours with ragged low-level cloud lines wrapping into an exposed, broad low-level
circulation and fragmented banding confined to the northwest quadrant.
A color composite microwave image reveals a chaotic low-level structure with multiple, evolving shallow bands, including some outflow boundaries, and no clear, defined low-level circulation center.
Upper-level conditions have degraded as the upper high to the north shifted northwest with convergent flow over the northern periphery of the system and weaker diffluence to the west. Vertical wind shear is unfavorable and has increased to 15-25 knots.
Furthermore, GFS has slowed development but indicates intensification to tropical depression strength in the 3-4 day time frame. ECMWF indicates no significant development while NAVGEM shows weak development with a westward track toward the central Philippines.
Maximum sustained surface winds are estimated at 12 to 18 knots.
The potential for the development of a significant tropical cyclone within the next 24 hours is downgraded to low.