South Pacific – Invest 91P
Tuesday, January 18, 2022
By PDC's Senior Weather
Specialist Glenn James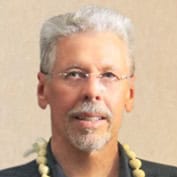 There's a tropical disturbance being referred to as Invest 91P…which is located approximately 402 NM south-southeast of Pago Pago, American Samoa.
According to the JTWC, satellite imagery depicts a defined, fully-exposed low level circulation center (llcc) with tightly-wrapped shallow bands. A scatterometer image shows a closed circulation with 25-30 knot gradient winds on the south side and 15-20 knot winds to the north of the llcc.
Environmental conditions are unfavorable. The system is currently located on the western side of an upper level trough with convergence aloft, which is producing large-scale subsidence, and high vertical wind shear (30-40 knots).
Analysis of the moisture environment reveals extensive dry air entrainment dominating the mid-upper levels, while sea surface temperatures remain conducive.
Global models are still in agreement with the system tracking westward over the next 24-48 hours with little development.
Maximum sustained surface winds are estimated at 20 to 25 knots.
The potential for the development of a significant tropical cyclone within the next 24 hours remains Low.