South Indian Ocean – Tropical Cyclone 25S (Karim)
By PDC's Senior Weather
Specialist Glenn James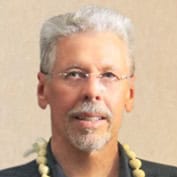 Tropical Cyclone 25S (Karim), is located approximately 355 NM west-southwest of the Cocos Islands, Australia
According to the JTWC Warning number 6, sustained winds were 60 knots with gusts to near 75 knots.
Satellite imagery depicts improving poleward outflow into a subtropical jet positioned to the southwest. This robust outflow channel in combination with low vertical wind shear and warm sea surface temperatures have allowed core convection to persist and consolidate
over the low-level circulation center, as evidenced in the animated enhanced infrared satellite imagery.
A microwave image reveals deep convective banding over the western semicircle wrapping into the north and northeast quadrants indicative of the improved organization.
Due to the favorable environmental conditions, particularly the robust poleward outflow channel, the peak intensity has been increased to 70 knots at 24 hours.
After 24 hours, the system will track within the steering flow between a broad upper-level trough and a subtropical ridge positioned to the east.
Environmental conditions should degrade quickly with increasing vertical wind shear of 30-40 knots and increasing convergence aloft associated with the aforementioned upper-level trough. Therefore, TC 25S will weaken steadily.
Near 48 hours, a strong low-level high will build to the south, effectively halting poleward track motion and commencing an abrupt equatorward track motion within the low-level southeasterly
flow.
Interaction with a weak baroclinic zone, cooler sea surface temperatures and significant entrainment of dry air, will lead to rapid dissipation as the remnants accelerate northwestward.