South Indian Ocean – Tropical Cyclone 25S (Karim)
By PDC's Senior Weather
Specialist Glenn James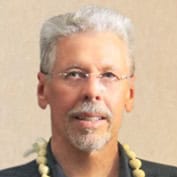 Tropical Cyclone 25S (Karim), is located approximately 1193 NM west of Learmonth, Australia
According to the JTWC Warning number 8, sustained winds were 50 knots with gusts to near 65 knots.
Satellite imagery depicts a uniform central dense overcast (cdo) obscuring the low-level circulation center (llcc). there is persistent deep convection around the llcc with robust radial outflow with strong striations from the cirrus canopy. There is also noticeable dry-air entraining from the north to the eastern semicircle.
The steering flow between a broad upper-level trough and a subtropical ridge positioned to the east will continue to hinder the southerly track by 36 hours. At that time, a strong low-level high will build in from the south forcing the track motion equatorward due to the low-level southeasterly flow.
Concurrently, TC 25S will begin encountering a harsher environment with increasing vertical wind shear and convergence aloft due to an approaching upper-level trough, and cooler sea surface temperatures.
The harsh environment will cause the system to begin the dissipation process starting by 48 hours and reach completion while drier air wraps into the system from the north, and by 72 hours will dissipate over the Indian Ocean as it moves equatorward.