[wpv-view name="major-event-banner"] [wpv-view name="secondary-major-event-banner"]
Working together to create a Safer World
Pacific Disaster Center (PDC Global) is an applied research center managed by the University of Hawaii that supports the most demanding governmental and nongovernmental organizations (NGOs) worldwide in helping to create a safer, more disaster resilient world. For more than 25 years, we've helped our partners enhance disaster management capacity, save lives, and reduce disaster losses through the application of our advanced tools and technologies, evidence-based research, and analytical information.
The Center's DisasterAWARE platform is used by tens of thousands of disaster management professionals—from the senior-level decision maker to the operational practitioner. It provides global multi-hazard early warning, hazard monitoring, and risk intelligence to support rapid and effective disaster response, preparedness, recovery, and mitigation. DisasterAWARE includes the highest resolution all-hazards impact models, advanced analytical reports, and augmented information through artificial intelligence. The system features the largest, scientifically-vetted big data catalog for disaster management decision making in the world—derived in part from PDC's unique National Disaster Preparedness Baseline Assessment as well as its Global Risk and Vulnerability data.
DisasterAWARE provides near real-time analytics about impacts to population, capital, and key infrastructure for multiple hazards, calculating likely humanitarian needs down to a scale of 30 x 30 meters. DisasterAWARE is free to disaster management practitioners and the humanitarian assistance community at https://disasteraware.pdc.org.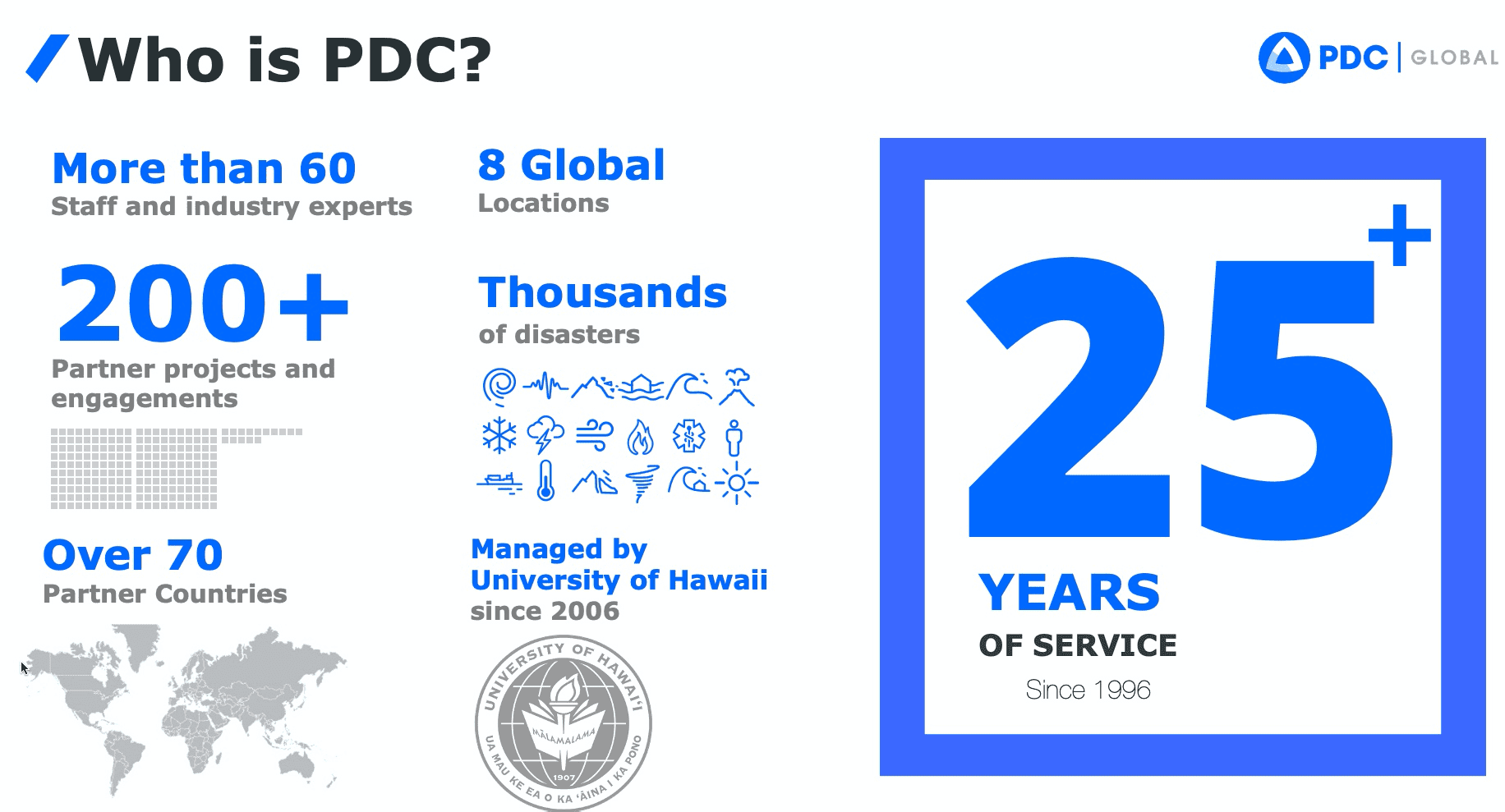 Customized versions of DisasterAWARE have been deployed by PDC in locations around the world and are used operationally by national and regional disaster management agencies for all aspects of disaster management.
PDC's mobile app, Disaster Alert, is also free and designed for use by the public as well as disaster managers on-the-go. It offers customizable early warning alerts for any type of natural hazard in any location around the globe. Visit https://disasteralert.pdc.org.
In addition to offering advanced decision support technology, PDC is pioneering the scientific application of artificial intelligence for disaster risk reduction through its AI for Humanity™ program. Learn more about these innovations at www.pdc.org/aiforhumanity.
The Center also provides specialized research on a range of topics ranging such as national fragility, national disaster preparedness, women, peace and security, and climate change. PDC also supports disaster preparedness training and exercises.
A brief history of PDC
Following the devastating effects of Hurricane Iniki to the Hawaiian Islands in 1992, Pacific Disaster Center was conceived as a center to improve systems of communication and technology for disaster prevention at home and beyond. PDC now serves a global audience, helping to increase disaster management capacity and embolden more effective decisions, policies, and actions for a safer world.
Ray Shirkhodai is responsible for PDC's strategic development, market and partnership expansion, and all aspects of the enterprise operation. Serving in information management and senior leadership roles since 1991, Ray first joined PDC in 2002 as the Chief Information Officer before his selection for Executive Director in 2007. During his tenure at PDC, Ray architected PDC's flagship DisasterAWARE® risk intelligence platform and mobile applications, developed and oversaw strategies for PDC's expansion into the global hazard and risk reduction markets, and increased the Center's competitive project revenues, augmenting PDC's base research and operating budgets. Ray has led the Center's support of major international disaster relief operations. He has served as a chief technology advisor to regional and national disaster management offices around the world. Ray has written for numerous United Nations publications on analytical software design for risk reduction. He has been an invited keynote speaker, lecturer and participant at many international events focused on technologies for risk reduction and resilience. Ray is on the advisory board of the University of Hawaii Maui College Applied Business and Information Technology (ABIT) program. He earned his Bachelor of Science degree in Computer Science from George Mason University followed by graduate studies in Artificial Intelligence at George Mason University.
Ray Shirkhodai
Executive Director
Chris Chiesa has more than 30 years of experience developing and leading enterprise applications of geospatial information technologies and has been actively involved in disaster management activities for the past two decades. He directs international deployments of PDC's disaster management decision support DisasterAWARE® platform. Chris has extensive programmatic and institutional experience in the Asia Pacific region. His work has also taken him to Europe, Central and South America, and Africa. In 2005, Chris received Esri's prestigious Special Achievements in GIS Award in recognition of the Center's support to the Indian Ocean tsunami response. He holds degrees from the University of Michigan (BSME, MSNR) and the University of Arizona (MBA).
Chris Chiesa, MS, MBA
Deputy Executive Director
Dr. Joseph Green is an expert in the practical application of risk information for humanitarian assistance and resilience-building initiatives worldwide. His analytical work spans more than two decades, with specialized focus on the examination of the intersection between social vulnerability, health outcomes, and disaster resilience. Joseph earned his PhD in epidemiology from the State University of New York at Buffalo. Prior to earning his PhD, Joseph earned a master's degree in medical geography from the University of South Florida and worked as a research fellow at the Centers for Disease Control (CDC).
Joseph Green, PhD
Director of Applied Science
Dr. Erin Hughey is the Director of Global Operation for the Pacific Disaster Center. A recognized leader in global disaster management and disaster risk reduction, Dr. Hughey developed the only operationalized approach to the United Nations Sendai Framework for Action. Known as the National Disaster Preparedness Baseline Assessment (NDPBA), this program has been implemented by more than 20 countries worldwide and aids national, regional and international disaster risk reduction initiatives. With a PhD in geography, Dr. Hughey has dedicated her life's work to the innovation and the application of new science and technology for disaster management—empowering practitioners and senior leadership alike with the tools and information needed to support data-driven decision making.
Erin Hughey, PhD
Director of Global Operations
Cassie Stelow brings with her more than 10 years of experience in the development and execution of enterprise-wide IT solutions and strategies. She oversees PDC's data management solutions and was the key architect for transforming the organization's data services into a single source. Cassie is responsible for the implementation of data governance, adherence to IT standards and the institutionalization of enterprise tools. She holds a Master of Science in Geospatial Information Science and Technology from North Carolina State University.
Cassie Stelow, MS
Acting Director of Information Technology
Scott Okada is responsible for PDC's fiscal planning and management in all areas of budgeting, financial analysis, procurement, and business information technology applications. He has experience and training as a financial forecaster, auditor, tax-compliance officer, and report compiler for national and governmental organizations. His experience also includes high-level oversight of human resources management and loss prevention, as well as cash management and cost control functions. He earned his Master of Business Administration from the University of Hawaii at Manoa.
Scott Okada, BBA, MBA
Director of Finance & Administration
Bear (Bernd) McConnell
Senior Advisor
Steve Recca has held several security policy positions with the State Department, Department of Defense, and in academia. He was Director of the University of Colorado Springs Center for Homeland Security where he managed research programs in civil security, defense-related topics, as well as institutional and government agency collaborative relationships. He is on the Editorial Review Board of four peer-reviewed journals and is a frequent guest lecturer on civil security topics for academic institutions across the United States. Steve holds a Master's in National Security Affairs from the Naval Postgraduate School.
Steve Recca
Humanitarian Assistance Programs Senior Advisor
Have questions, or want to partner on an assessment?
#SaferWorld #DisasterAWARE
[juicer name="pacific-disaster-center" pages="1" per="4"]